AMTA's National Massage Therapy Awareness Week (NMTAW)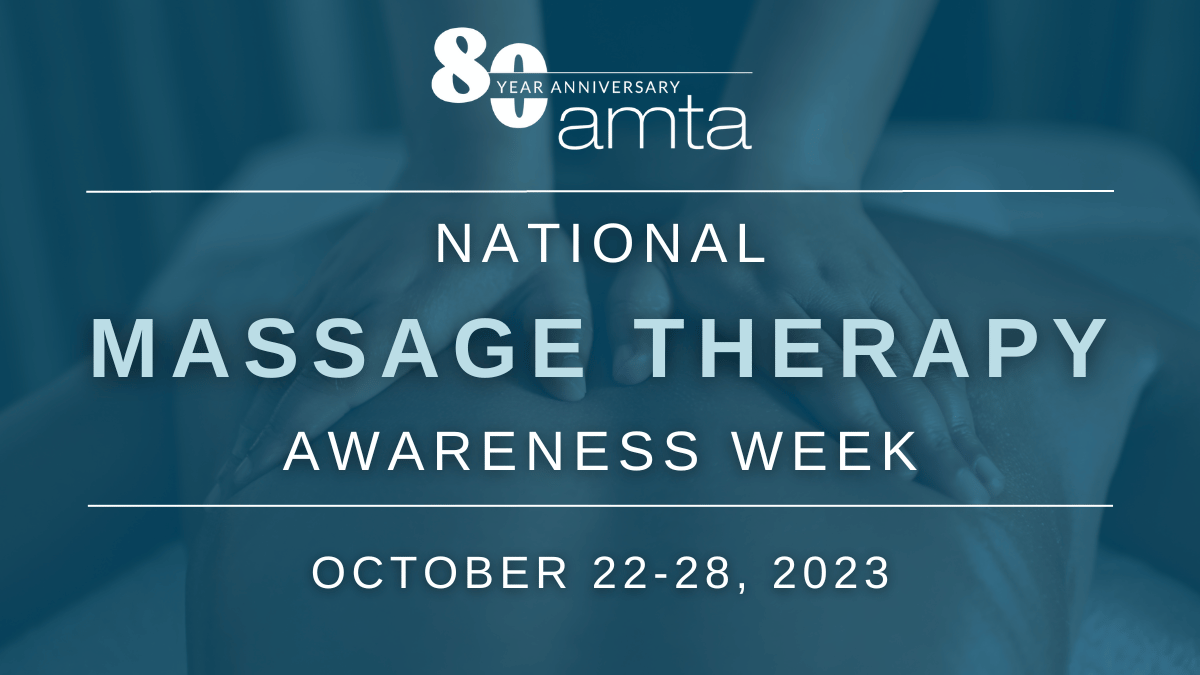 AMTA's National Massage Therapy Awareness Week® (NMTAW) is a dedicated week for massage therapists across the U.S. to celebrate and promote the health and wellness benefits of massage therapy with their clients and community. We hope you will join us on social media all week long and take advantage of our special NMTAW promotions.
1. Share Resources on Massage for Health & Wellness with Your Clients
We will be sharing resources throughout the week on social media, highlighting the many health and wellness benefits of massage therapy. Make sure you are following us on Instagram and Facebook to access and re-share these resources with your clients. Plus, take advantage of our free downloadable NMTAW flyer and Benefits of Massage poster to display in your massage therapy practice.
2. Get A Limited-Time Discount on Our Self-Care CE for Massage Therapists Bundle
As we celebrate the benefits of massage therapy this week, take some time to reset, reflect and prioritize your own physical and mental well-being with our Self-Care CE for Massage Therapists promotional bundle – only available for purchase during NMTAW (October 22-28). AMTA members save $37 (the equivalent of one free course), and non-members will save over 20% on this bundle!
Included courses:
NEW! Self-Care Strategies for Preventing Burnout by Susan Salvo, EdD, LMT
Healthy Hands: How to Properly Take Care of Forearms, Wrists and Hands by Dennis Price, LMT
Self-Care Fitness Principles for Massage Therapists by Nina Cherie Franklin, PhD, CMT
Purchase the Self-Care CE Bundle
Please note: You have one year from the date of purchase to complete an online course.
3. Exclusive NCBTMB Board Certification Promotion
Thank you all for your interest in our special NCBTMB promotion. We are excited to share that we had an overwhelming response, however, all of the available spots are filled and we've closed the promotion.
We're thrilled that so many massage therapists in our community are taking steps to elevate their professional standards! If you missed the promotion but are still interested in getting board certified, we encourage you to visit
NCBTMB's website
to learn how to get started.
Share Your Story
Don't forget to share how you celebrated NMTAW! Send us your photos and updates from your NMTAW awareness activities for a chance to be featured on our social media platforms, website or publications.